Table of Contents
ASS: The Astronomy Student Society
ASS is the astronomy department's officially recognized student group. Its primary purpose is to raise university funding for Thursday tea. The aim of this particular wiki page is to detail this complicated and often frustrating fundraising process. While the university is unlikely to significantly change this process, keep in mind that the details outlined on this page may not apply exactly in the future. Also keep in mind there are strict deadlines for when applications are due and a couple of hoops you must jump through before even submitting an application. See http://ga.berkeley.edu/funding/dates.php for for info.
ASS Signatories: Making ASS Official
In order to be eligible for university funding, ASS must be officially recognized by the Office of Student Life (OSL). ASS already exists in the OSL's database and it is assigned a "Group Status." We are only eligible for Cal funding if our group status is "approved".
In order for our group status to be approved, four astronomy grad students need to register as ASS signatories. This process must be repeated every semester*.
All interactions with the OSL can be performed online at:
http://students.berkeley.edu/osl/studentorganizations.asp
*I think…
Working with the Graduate Assembly (GA)
The Graduate Assembly (GA) provides many Cal grad student groups (both social and academic) with funding and a variety of other services.
In order to be eligilbe for funding, three things must be true:
ASS must be approved by the Office of Student Life (see above).

At least one member of ASS (typically the member in charge of liasing with the GA) is required to undergo a GA Funding Workshop session and an OSL Funding Workshop session. If you have already undergone the training, you may need to do it again.

The Funding Application must be completed and submitted on time!
The GA website has everything you'll need to accomplish 2 and 3:
http://ga.berkeley.edu/funding.php
Note that the GA website tends to undergo changes rather frequently: this link may not be valid forever. If this is the case, just use google and look through the GA website for the word "funding."
Getting to the GA
The GA is in Anthony Hall, south-west of Campbell. You can't miss it – there's a huge Pelican on the front lawn.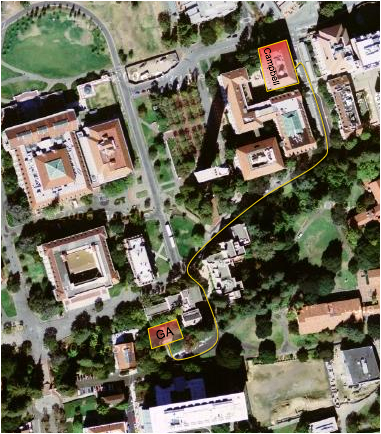 GA and OSL Funding Orientation
The GA and OSL funding orientation meetings tend to be relatively short (about an hour or so). They are offered regularly throughout the year. For a schedule, visit the GA website.
The workshops are held at the GA Offices.

You must tell the GA that you'll be coming 24 hours before the meeting by e-mailing ga_advisors@berkeley.edu
The Relevant Paperwork
The Reimbursement Process
Other Sources of Tea Funding
The GA rarely provides us with sufficient funding to support tea for an entire semester. We typically also rely on grad student/professor "donations."
Recommended donations (per semester) come out to:
Graduate Students: $5

Post-Docs: $10

Faculty: $15
Whoever is in charge of tea funding is expected to keep track of who has donated and who has not. This practice has, in the past, been used to gently remind members of the Campbell Hall community to make their recommendations. I believe an incident involving faculty names inscribed on cupcakes took place once….
If, for some reason, the GA funding and these donations are insufficient to reimburse tea providers the tea funding point person can ask the department (usually Bora) to provide a reimbursement. This should be avoided as much as possible.